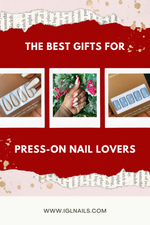 Best Gifts for Press-On Nail Lovers
As we approach another pandemic Christmas, gift shopping starts to fill up our schedules. We start trying to remember who likes what and what hobbies our loved ones have to find the perfect gifts. Fortunately for you, we've got you covered with a list of items to get for your press-on nail lover. And… everything on our gift list is $40 or LESS! You can satisfy your beloved press-on nail lover without breaking the bank. You might even want to treat yourself to one of the gifts. Here are the best gifts for the press-on nails lover that will bring joy to them this season.
Category: Minimalist but LOVES Soft Glam
Ashleigh is a coffin-shaped nail that fits narrow and regular-sized nail beds. This design features an off-white/ivory color with gold glitter sides. These nails just ooze minimal soft glam.
It's a classic translucent baby pink set in a short-medium length with a coffin shape. The silver glitter outlined accent nails add just the right amount of pop for this season's holiday parties or your best friend's wedding.
Who knew that glitter could be so classy? Our Aurora nails add a hint of glam with these pink sheer glitter nails. With their short length, they are great for the minimalist wearer. Square nails are a classic shape and special to nail lovers. She will love the sleek, calm, elegance of these nails.
Category: Bold & Eccentric
With a bold electric blue, these nails are anything but dull. They have what you need to make a statement this holiday season- a glossy finish, medium-long length and coffin shape, unique accent nails, and white specks. They give winter holiday vibes without being on the nose.
Turn up the dramatics with this Lacey set. The electric purple and black scream for attention, but the French tips and thick lines show creative genius. These press-on nails give you the best of both worlds. This set is perfect for your rock-star nail wearer.
Category: Classic Nudes
Hot chocolate, anyone? Our Kim set comes in a soft, warm hot chocolate brown on an almond-shaped nail. The glossy finish and medium-long length are fashionable for the holidays. This set works well on any skin tone and can easily match your winter wardrobe.
At last, welcome to the square press-on nails that are so nude and glamorous. These nude holiday nails are short with a glossy finish. They also include accent nails with cute square gems on them. Can you think of a better stocking stuffer gift for your press-on nail lover? Neither can we.
Bring a soft warmth to your hands with this nude set. The sheer glossy finish provides just enough coverage without being too outstanding. Alissa has a coffin shape and medium-long length. This set is excellent for people who like to stunt in a classy way subtly.
Category: Goth
Satisfy your princess of darkness with this coffin set. Our Gianni set is medium long with a glossy finish over an intricate design. The dark colors on this nail compliment the dark wardrobe of a goth girl.
Embrace the dark or the light with this set—Accent the black with either a metallic gold sun or angry skull. The Elizabeth set has a glossy finish that makes the black and gold shine. The coffin shape and medium-long length add to the badassness of these nails.
Black is every goth girl's favorite color, right? Well, Bonnie is where grunge meets class. It consists of coffin-shaped medium-long black and gold nails. The gold nails contrast the matte-finished black nails to bring a subtle festive vibe.
Did someone call a vampire? Because these Brie nails are giving True Blood vibes. These nails are deep plum with a coffin, XL length, and a matte finish. They are dramatic claws that are the perfect winter color.
Category: New Mom
New moms are busy and drained. She doesn't have time for nail appointments, but that doesn't mean her looks should suffer. The Mai set is fun and cute. It includes light olive green, glitter gold, and printed nails with text. The short length won't get in the new mom's way. The glossy finish makes them perfect for keeping the baby's attention.
These nails are cute and fun. The bright colors under the glossy finish are eye-catching. The Gina set is excellent for brightening the new mom's mood with this energetic design of blues, yellow, and white.
Who can say no to a floral print? Not to mention the awesome abstract nail that is also in this set. WOW! This Shayla set has everything a new mom needs. The nails are short and square with a matte finish. The nude brown offsets the pink flowers and yellow abstract nails perfectly. These nails are playful yet mature and feminine. They are a great all-around choice.
Your dreams for a short white Christmas have been answered with this beautiful set. White nails are a timeless and classy option. They can match any outfit, and the length is new mom lifestyle friendly.
Category: Art Lover
Nail art is pure artwork in real life, which is this Mona set. Each nail features an abstract face on a medium-long coffin nail. The design includes black, blue, and orange that contrasts nicely with the ivory background. They are the perfect gift for the artsy lady.
What could go wrong with a black and white design on French tips? NOTHING! It's like zebra print with a twist. Our Bellatrix set has two different designs for the nail art lover to mix and match. They are medium length with an almond shape and glossy finish.
Gift Sets
Holiday Lover Gift Bundle
3 sets of our new Christmas picks
Noelle & Frankie & Jess. Cost: $41 (value $48)
Best Sellers Gift Bundle
2 sets of our best selling nails + rings
Got a sweet tooth this holiday season? Then Kandi is your ideal set. This set has a tasty iridescent orange chrome finish that will have viewers dazed. With a coffin shape and medium-long length, Kandi is absolutely delicious.
Get groovin' in these '70s abstract inspired nails. The nude brown and soft pink colors give the nails a psychedelic twist while the medium-length and glossy finish draw the right amount of attention. Cost: $32 (value $42)
Accessories for the Press-on Nail Lover
Don't let your love for XL nails get in the way of swiping that Visa card this holiday season. Now, you can have the best of both worlds with our credit card puller. It allows you to protect your nails while using your credit card. We offer six fun designs, and each one can be used as a keychain. Never again get frustrated at an ATM with the credit card puller. 
Passion for nails often goes beyond the nail bed, which is why our nail sticker pack was created. You can show off your love for nails with these statement stickers. You can use the stickers on anything, including phones and laptops.
Conclusion
Give the special person in your life the gift of freedom from the nail salon. The holidays are about giving to others, and what better way to show someone you care about them than to support their interests. These IGL Nails sets, gift sets, and accessories are great for stocking stuffers or gifts under the tree. Don't just decorate your house, but give the gift of beautiful nails as well. So, your press-on nail lover can happily and confidently look forward to the new year in style.