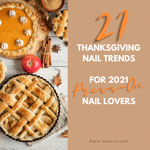 21 Thanksgiving Nail Trends for 2021 for the Press-on Nail Lover
Self-care often takes a back seat during the holiday madness. Who has the extra time or money for nail appointments with grocery shopping, cooking, and house-hopping? At the same time, you can't show up to the family Thanksgiving dinner looking like you crawled out from under a rock. So, how do you keep up with the busy holiday season while looking polished? The solution is press-on nails or an at-home manicure. 
The only thing better than the variety is the time and money saved with press-on nails. In just 10 minutes, you can give yourself salon-quality nails from home or on your way to the feast. You can choose from the latest fall colors to cute Thanksgiving-themed nails. The options are limitless, but some things won't be in style. Here are 20 yummy nail trends that you will want to gobble up this 2021 Thanksgiving season.
Top Thanksgiving 2021 Nail colors
ALL shades of orange:

Yes! We're talking about everything from pastel to tangerine tones.

Browns:

Deep warm browns are in style like chocolate, mocha, caramel, cinnamon, etc.

Yellows:

 Yellows mixed with orange are a safe bet this season.

Metallic gold:

Accents are trending, so expect to see the metallic gold accent on many nail designs during Turkey Day.

Whites:

The base color of choice as people make their fun turkey designs.

Greens:

An olive green or leaf green adds well into the fall mix.

Purple:

Deep plum is for those that are going for the dramatic look this holiday.

Reds:

Be prepared to see wine red, burgundy, and marsala shades.

ALL glitter nails:

  Shine bright like a diamond at the Thanksgiving family gathering.
Thanksgiving Nail Trends of 2021
Glitter Tips
Adding a little sparkle to the tips of your nails could be the subtle upgrade you were looking for. Glitter tips can also transform fun fall colors into festive holiday designs. You can DIY this design on your natural nails or try out the IGL Nails Ciara nails. These are perfect for any environment via casual or classy and also compliment your everyday look. Length is essential when it comes to sporting glitter tips, but short nails will work too.
Harvest Ombre
Like turkey tail feathers, this look is stunning with mustard-yellow, red, orange, and browns. The rainbow of warm naturals makes this the perfect Thanksgiving manicure. It's easy yet effective in showing your holiday spirit. 
Gold Foil
Since the beginning of time, gold has been admired for its luxury and status symbol. Fortunately for you, you don't have to be royalty to have the Midas touch. Gold foil makes your nails look like a work of art and are perfect for Thanksgiving Day nails. Save yourself time and money this season and grab our Brandee set or Thelma set.
Tortoiseshell 
This design might be the most popular design on our list since the Internet is currently obsessed with it. It's a fall vibe without being too on the nose like turkey nails or corn nails. Tortoiseshell nails are elegant and creative.
Orange Gradient
Orange is this color this season, so why not show off its range with a beautiful orange gradient. ALL shades of orange are trending this 2021. This is a simple idea and a fun way to do ombre nails with a color-changing with each nail. It's both cute and casual.
Pumpkins
Pumpkins can double up for a Halloween design and a Thanksgiving design. Now, that's what you call a two-for-one deal. This design is for people with steady hands and skills, but you can still achieve this look with press-on nails if you are a novice. You will need a few different colors and a nail painting brush. Paint the pumpkin along the cuticle or on the tip of the nail. The more details added, the more realistic your pumpkin would look.
Plaid Thanksgiving Nails
This cozy pattern is not just for our favorite warm clothes, but it also looks great on our nails. Grab your favorite mustard-yellow, cream, and brown nail polish for a Clueless-inspired look (thanks, Cher Horowitz!). Spice it up with red, black, or gold. You'll also need a steady hand and patience for this design's straight lines. Luckily, this design only goes on one to two fingers on each hand. No time for this? Then check out our Bailey set.
Fall Skittles
Tastes the rainbow with a fall skittles design of purple, yellow, green, and orange for Thanksgiving. This colorful look is this year's most significant nail trend. It involves making each nail a different color, much like a pack of Skittles. You can also use navy blue, chocolate brown, charcoal grey, olive green, and mustard yellow. It's a festive, cozy look for the holiday.
Leaf Nails
What's fall without mentioning the beautiful leaves? After all, it is where we get the fall colors from, so why wouldn't fall leaves be the perfect design for Thanksgiving? Adorn your nails in delicate yellow and orange leaves for this year's dinner. 
 Pumpkin Spice
Pumpkin spice is more than our favorite seasonal latte at Starbucks. It's also an eye-catching color to dazzle your dinner guests. This warm deep orange like the IGL Nails Ruby set is an easy option that delivers. 
Fall Floral
Fall floral is where seasons collide. Mixing cute spring flowers with warm fall colors is an excellent combination for a soft Turkey Day look. Colors like chocolate, orange, and mustard-yellow will make your design pop. If all else fails when trying to create this look, then  IGL Nails is here to help.
Orange Marble
Keep it chic, classy, and festive with fall marble nails. We're talking about swirling oranges, yellows, browns, and creams for this design. It puts a spin on the traditional marble look of greys and blacks without downgrading the classiness. You can try this pumpkin spice latte marble or use the IGL Nails Venita set, or Aggie set. Either way, this look is sure to turn heads at the dinner table.
Hot Chocolate
Keep it simple with a classic uniformed look of hot chocolate-colored nails. The warm brown color is classic, chic, and subtle. Showing up to the Turkey Day feast in your Marilyn set will give you the confidence you need for the evening.
Abstract Thanksgiving
Fortunately, this design is suitable for all skill levels. Get creative with freestyle or follow a design that you love. There is no wrong way to do an abstract nail, so there is plenty of room for error. With tan, two shades of brown, white, and gold, you can create your Thanksgiving masterpiece. This design should look random and abstract but not messy. Tie the overall look together with a gold accent.
Orange Flower Child
Bring some old school and new school for Thanksgiving day with this funky orange floral printed Morgan nails. You can accent this look or go full-on design crazy. Either day, the orange shades and flowers will have you looking Fall fresh.
Gold Cuticle
A deep wine red nail or burgundy with a hint of gold polish and these nails work for fall, Thanksgiving, and Christmas. Add elegance and charm to your deep red nails with a metallic gold line along your cuticles. This look is timeless.
Turkey Nails
This nail design is for the true Turkey Day lover that's full of the holiday spirit. Gobble up the day with bright, festive turkeys on your nails using orange, yellow, and brown gradients against white polish. Turkey nails are cute for Thanksgiving Day or the whole month of November. 
French Red
Bring the heat with a French red manicure to warm up the cold Thanksgiving Day. Red can be bold, attention-grabbing, and sexy. This color makes a bold statement at the dinner table.
Thanksgiving water marble nails
You will need orange, yellow, and brown for this design. It's a simple yet captivating design to wear for the holiday.  You get fall and Thanksgiving vibes all in one with Thanksgiving water marble nails.
Fall Sweater Nails
This nail design brings texture to your Thanksgiving Day while also matching your cozy look. It's all about the attention to detail with these fall sweater nails. Each one is in a different fall color- chocolate, wine, caramel, cream, and more. 
Mixed Prints
Checkerboard, the '70s swirls, cow print, you name it. Anything goes with a mixed print set.  Thanksgiving nails can be any design with the right color palette. You can get as creative or simple as you want with your prints.
Conclusion
Keeping up your appearance and holiday demands is possible this year with an at-home manicure or press-on nails. IGL Nails will save you time and money this Turkey Day with easy, affordable, stylish options. Our nails can be purchased in-store or online. Whether you're keeping it classy or stopping the show, one of these 2021 Thanksgiving trends is sure to deliver. 
Which Thanksgiving trend was your favorite? Share your answers in the comments below.