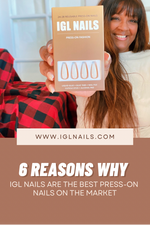 6 Reasons Why IGL Nails are the Best Press-On Nails on the Market
Our nails play a significant role in our appearance. They communicate our health, grooming habits, and lifestyle with just one glance. Our nails can also be used to express our personality. Artists like Meg Thee Stallion and Cardi B are known for their over-the-top creative custom claws, but having beautiful nails is not just for people in the limelight. Nor are beautiful nails exclusively reserved for a particular occasion. 
Everyone deserves the latest styles and designs. You can look classy and polished at work with your short Aurora press-on nails. Then switch it up for the weekend turn up with some long Brie coffin nails. Whether you're going to work, the gym, or the grocery store, IGL Nails has press-on nails for every type of woman. 
The thing that makes IGL Nails unique from other press-on nail brands is our variety and fit. You can make your nails as loud or as toned down as you want them. IGL Nails are designed for the working women we see every day at the post office, grocery store, bank, etc. For women with narrow, regular and wide nail beds. IGL Nails is a press-on nail brand that encourages women to take back their time and Never Have Fugly Nails™️. 
Here's what makes IGL Nails the best press-on nail brand on the market.
Time, Money, and Safety
All IGL Nails are under $20! That's a steal considering that some press-on nail sets can cost up to $80. You can safely pamper yourself with press-on nails too. With the pandemic and inflation going on, going to the nail salon is riskier than ever. We live in a time where doing simple maintenance chores like visiting a nail salon could have grave consequences for us and our loved ones. 
Not only do you risk exposing yourself to COVID-19, but you also suffer financially from the increased prices. We all know those nail appointments can last up to three hours which puts people at risk. We also saw the grooming struggles many people had during the lockdown. Press-on nails offer a safe, cost-effective, and timely way to look your best. Most women have children or loved ones that they need to care for and care for themselves.
Length 
IGL Nails founder Brittany Golden couldn't find her ideal medium press-on nails at the local drug store or online. The lack of length availability, among other things, drove her to solve this problem for herself and other nail lovers. As a result, IGL Nails provides short, medium-long, and XL nails, which are the most length options that you can find for press-on nails. The medium-long length is the best seller and is most suitable for everyday life.

Shapes
Dare to be glamorous in our Angelina nails or to be corporate in our Jaleesa nails. IGL Nails offers all the latest and classic shapes such as coffin, almond, square, and stiletto shapes. 
Shape preferences can change by person or occasion, but our variety won't disappoint. For example, the banker can't wear her XL coffin Lena nails to work, but she can wear them on her Tulum trip. You can keep it classy or get wild. Each box includes 24-28 nails as opposed to the traditional 12-24. Our extended nail sizes allow women with narrow nail beds and wide nail beds to enjoy the convenience of press-on nails.
Colors and Designs
The best thing about press-on nails is the color and design options.  With press-on nails, you can choose anything from cheetah print to ombre to matte to minimalist designs. You can easily go from luxury babe or the humble flower child. Just pick an IGL Nails set that matches your day-to-day. You get the exact design you see in the box—simple and easy colors and designs that elevate your look. You don't have to worry about the design looking different from the picture.
Multiple Application Options
If you like to change up your style often, then IGL Nails offers short-term wear with adhesive tape in each kit. The short-term wear application lasts 1-3 days. This is perfect for photoshoots, special occasions, costumes, or last-minute events. This option is also for women that want to stay away from glue and other adhesives that damage the nails. We recommend this option for servicewomen, such as military personnel who cannot wear nails while working.
Long-term press wear is for the busy woman who doesn't have time to spend hours in a nail salon but needs to maintain her appearance. IGL Nails also provides liquid nail glue in each box for long-term wear that lasts up to two weeks. Long-term wear is also beneficial for lazy women who don't want to be bothered with their nails every few days. 
More than Nails
Unlike most big box brands IGL Nails has a face to the brand because Brittany understands the importance of community. IGL Nails was her way to contribute to the nail community that she holds dear to her. Brittany enjoys watching her clients boost their confidence with a fresh set of IGL Nails. 
Those who shop IGL Nails online, at one of our 11 retail partner locations in So Cal, Texas, or Georgia, or in person at our weekend pop-ups have access to the IGL Nails team and can ask questions, receive 1:1 application help and really become part of our press-on nail community.
Conclusion
As you can see, Brittany created IGL Nails for women like herself that deserve to feel beautiful and confident in their press-on nails. Women who want to express themselves in using various lengths, shapes, colors, and designs without the high price or long wait time. Whoever she is and wherever she is, we can assure that her IGL Nails will complete her look. With short wear and extended wear options, you can change your IGL Nails as much or as little as you want.