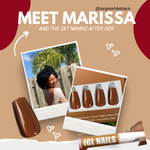 Meet Marissa aka Target While Black and the Set Named After Her
We all know how rare it is to find black owned products in big box retail stores. Well, meet Marissa also known as @targetwhileblack on Instagram. She's made it a point to find and promote all of the amazing black owned brands currently found at Target.
link: https://www.instagram.com/reel/CXbXWBuFDlC/?utm_medium=copy_link
At IGL Nails I make it a point to name all of my sets after people who have inspired in me in one way or another and our fabulous repeat customers. 
Marissa has definitely inspired me and others to shop Black at Target and continues to uplift and support black owned brands like IGL Nails. It was only right that we named a set after her!
Thank you for being YOU Marissa!
Follow her on Instagram https://instagram.com/targetwhileblack?utm_medium=copy_link
Follow her on TikTok: https://vm.tiktok.com/TTPdBmywtA/
Style: Marissa • Cost: $15.99 • Color: Brown • Length: Medium • Shape: Coffin • Finish: Gloss